Hello.
It looks like you're new here. If you want to get involved, click one of these buttons!
What is one to say about June? The time of perfect young summer, the fulfilment of the promise of the earlier months, and with as yet no sign to remind one that its fresh young beauty will ever fade.

Gertrude Jekyll
A swarm of bees in May
Is worth a load of hay;
A swarm of bees in June
Is worth a silver spoon;
A swarm of bees in July
Is not worth a fly.
Bob Dylan
Bob Dylan has spoken. Just in the nick of time too as he was supposed to give his lecture within six months of being awarded the Nobel Prize. In 2016 the musician won the Nobel Prize in Literature and then refused to collect the prize. It took him months to collect his award and till now, he hadn't delivered the lecture that he needed to give in order to receive the money.
Dylan claimed during his Nobel Prize acceptance speech that "Not once have I ever had the time to ask myself, 'Are my songs literature?'"
He cites three books—Herman Melville's Moby-Dick, Erich Maria Remarque's All Quiet on the Western Front and Homer's The Odyssey—as particularly influential, though he mentions Don Quixote, Ivanhoe, Robinson Crusoe, Gulliver's Travels and A Tale of Two Cities too.
Dylan will now collect over $900,000 in prize money.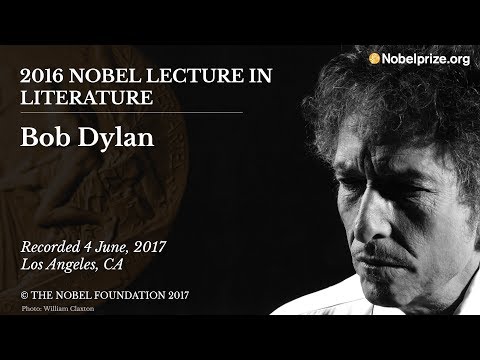 Tagged: