Hello.
It looks like you're new here. If you want to get involved, click one of these buttons!
By all these lovely tokens
September days are here,
With summer's best of weather
And autumn's best of cheer.

Helen Hunt Jackson - September
The breezes taste
Of apple peel.
The air is full
Of smells to feel-
Ripe fruit, old footballs,
Burning brush,
New books, erasers,
Chalk, and such.
The bee, his hive,
Well-honeyed hum,
And Mother cuts
Chrysanthemums.
Like plates washed clean
With suds, the days
Are polished with
A morning haze.

John Updike, September
Bob Dylan
Bob Dylan has spoken. Just in the nick of time too as he was supposed to give his lecture within six months of being awarded the Nobel Prize. In 2016 the musician won the Nobel Prize in Literature and then refused to collect the prize. It took him months to collect his award and till now, he hadn't delivered the lecture that he needed to give in order to receive the money.
Dylan claimed during his Nobel Prize acceptance speech that "Not once have I ever had the time to ask myself, 'Are my songs literature?'"
He cites three books—Herman Melville's Moby-Dick, Erich Maria Remarque's All Quiet on the Western Front and Homer's The Odyssey—as particularly influential, though he mentions Don Quixote, Ivanhoe, Robinson Crusoe, Gulliver's Travels and A Tale of Two Cities too.
Dylan will now collect over $900,000 in prize money.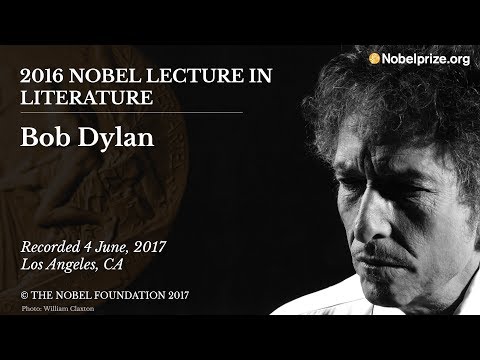 Tagged: