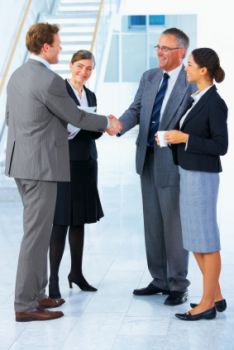 Recently, three girls have interviewed me about the impression a handshake makes. After the interview, they asked me to write a preface for their school assignment. I'd like to share this preface with you here, so that we can take the opportunity to talk a little bit about the topic of handshakes.
People normally take how they shake hands for granted. What's so special about a greeting that involves grabbing someone's hand and pumping it up and down? Why do we do it anyway? And does it really matter how we do it, or do we have to take a specific kind of etiquette into account to do it right? If you look into it, the handshake is special, it's not a meaningless gesture. It really matters why we do it, when we do it, how we do it and who takes the initiative. We do not shake hands for no reason, and timing is also very important. We shake hands when we come and go, to congratulate someone, or give them our condolences, or maybe to seal a business deal. We certainly don't shake hands in the middle of a conversation.
So the handshake can convey all kinds of important information. Let me give you an example. When in 2013 the famous Dutch ocean liner and cruise ship, the SS Rotterdam was for sale, two parties held a meeting to negotiate the price. After the meeting, hands were shaken, and after that the stakeholders hung out for a while to have a drink together. A few days later the selling party stated that actually no deal had been made. The buying party said they had shaken hands on it. What was the truth? Well, if you take the meaning of a handshake into account you can conclude that the deal was made. Why? Because they had shaken hands, even though they didn't intend to leave yet. This handshake wasn't a handshake to say goodbye. It was indeed a handshake of agreement and congratulation. This example exemplifies what something as simple as a handshake can accomplish!
There are many other aspects of this simple gesture that's worthwhile to consider. Who takes the initiative in a handshake? At job interviews, many job applicants ask themselves if it is a good form to take the initiative themselves or should they wait for the recruiter to begin? The answer can be found again in the conveyed meaning of the handshake. Normally the host takes the initiative to welcome someone when they arrive. When they leave, it's rather the guest that should take the initiative to show gratefulness for the hospitality.
Then there is the question about the amount of pressure you should exert when shaking hands. In the West, a firm handshake is considered appropriate. In Eastern countries, a rather limp handshake is the norm, at least if those people shake hands in the first place. Strangely enough, people are not that conscious about their own handshake. In my own research, I found that almost everyone has experienced receiving an limp handshake, but no one recalls ever giving a limp handshake themselves.
Last but not least, in what position should you keep your hand when you shake hands? Should you keep your hand upright in vertical position when you shake hands or is it better to offer your hand with the palm facing downwards or rather upwards? Apparently there is a connotation of being a more or less powerful position, depending on the position of your hand. Shaking hands with the palm facing downwards is seen as conveying dominance whilst shaking hands with an upward palm is rather submissive. The upright hand is seen as the most equal way of greeting. However, what makes you decide to give a dominant or a submissive handshake in the first place? What is it that makes us believe the other person has a more or less dominant role in comparison to ourselves? Does it have to do with their appearance and if so, what would people do if they had to shake hands with someone they couldn't see? That's a question that hasn't been empirically researched as far as I know.
When Sara Carlos Campos, Loes Huibers and Noa Vlaming came to my place for an interview, I was pleasantly surprised by the way they had set up their research and had worked it out. It would be a good subject for further empirical investigation in the field of psychology.