Watch this Mr. Bean video and then answer the questions below.
(you can find the right answers under the spoiler.)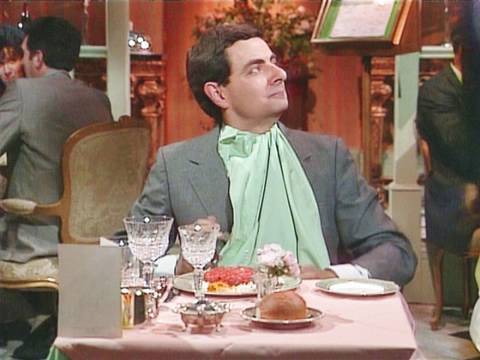 1. What did Mr. Bean do after the waiter had brought him his dinner?
He tipped the waiter.
2. How did Mr. Bean like the Steak Tartar he'd ordered? Why?
He didn't like the Steak Tartar because it wasn't cooked.
3. What did he do with the Steak Tartar? Why?
He tried to hide it everywhere because he didn't want to show the waiter he didn't like it.
4. Where did he hide the meat?
He hid it inside a bun, in the sugar dish and inside a woman's purse.
5. What was the first song the violinist played for Mr. Bean?
The violinist played "Happy birthday".
6. What accident did the waiter have?
He tripped over and fell on the floor.
7. What did Mr. Bean tell the host?
He told the host the waiter had made a mess.
8. What did he show the host?
He showed the host the meat that was inside the woman's purse.
9. What did the host do?
The host guided Mr. Bean to a new table.
10. What did the waiter bring Mr. Bean?
He brought Mr. Bean another Steak Tartar.