These days the children in our country are very excited. It's only a few days to be waiting for them. On December 5th we celebrate Sinterklaas in Holland. Sinterklaas is a old noble bishop with a white beard, allegedly coming with a steam boat out of Spain every year. He seems to be a very rich man because he gives presents to all the children. Therefore the children put their shoes near the fireplace. And than in the night Sinterklaas walks with his white horse on the roofs of the houses to listen to the songs of the children. If the children have been nice (and of cause they all have been), Sinterklaas sends one of his helpers – the Black Pete's – down the chimney to deliver the presents.
Sinterklaas looks a bit like Santa Claus. And actually Santa Claus happens to be a heritage of Sinterklaas. When I was a small boy I really believed in Sinterklaas and Black Pete. I was a little bit afraid of Black Pete; Indeed he was a very severe figure. This picture has changed and now, in the last few decades, Black Pete developed the more kind side of his personality.
Lately a discussion about the Black Pete figure has started in our country. Some people think it's a kind of discrimination to paint white faces black. There has been investigated what Dutch people think about it. At this moment 95% of the people want to keep the Black Pete just as he is now. They say it's a tradition and it's just a children's party. Actually there's nothing discriminating about it, they say. Black Pete gets a lot of support on the social media here. There is a Facebook page about it that received more than 2.000.000 likes. And that is very much for a small country like Holland. I think that might have to do with what we are grown up with. The Black Pete figure exists for ages and is woven into our genes.
This year a few alternatives where presented on television, like a Clown Pete, a Cheese Pete (Yellow) and a 'Syrup Waffle' Pete (light brown). But most Dutch people where not so enthusiast about this performance. Actually in most of the Dutch towns nothing changed during the festivities. Black Pete just stayed black almost everywhere. Here you can watch a Black Pete Showband at the festivities in our town last week.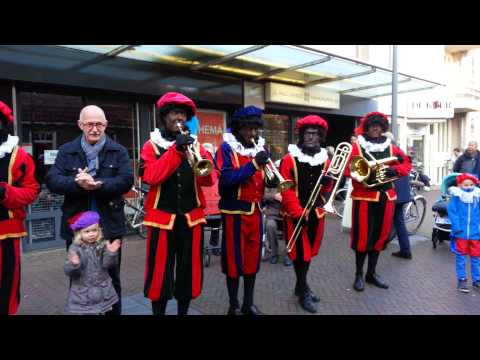 I'm curious what you think about a traditional celebration like this. Do you have an event like this in your country? How do you celebrate that? Do you also have a figure like Sinterklaas in your culture? What does he look like and what does he do? And what do you think about the Black Pete (instead of Santa Clause's Elves). Do you think this is a kind of discrimination?